Meet My Muses
Also known as the voices in my head!! Ok, you've read my fics and you wonder "Where does she come up with this stuff?" Well, these are the little scamps responsible for my bizarre insanity!!
WRITING MUSES

WEB MUSE

Hee-vamp
D-vamp
Sora-vamp
Ze-vamp
Muse of:
Muse of:
Muse of:
Muse of:
LEMON LIME ANGST AU DEATH
LEMON LIME SAP SONG HUMOR
WRITER'S BLOCK
WEBSITE ART
Hee-vamp doesn't say a lot. Infact, all he says is "Omae o taberu!" Rough translation, "I will eat you!" I'd stay away from this one if I were you!!
D-vamp is the little hellion. Always having the last laugh, he blames everything he does wrong on Hee-vamp. I only think he exists to torment Hee-vamp.
This little muse just showed up one day and got me out of a nasty writer's block that had last for more than a year. I owe him a lot. The other muses aren't sure what to make of him, but this Sora-vamp is here to stay!! *huggles kawaii vamp*
Ze-vamp is the shy one. As you can see in his picture, he doesn't like cameras very much. I had to bribe him to take it. He's a little cuddler. You'd think he was a Quatre muse, but he's not.
And this piccie of Hee-vamp was done for me by Jmi!! *hugs Jmi*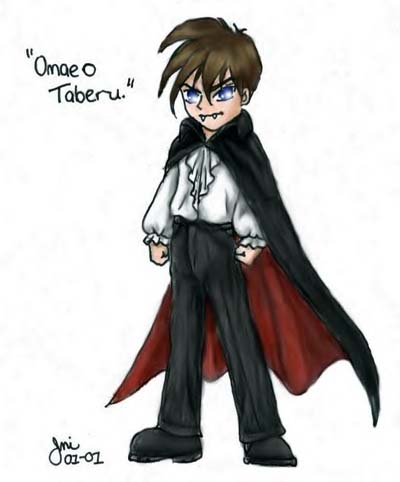 Isn't he soooooooooooo kawaii!! Thanks Jmi!!